I haven't done one of these bad boys in a while. What am I lusting after or absolutely loving right now? Oh, I'm so glad you asked:
Sperry Top-Sider Audrey Shoes! Patent aqua, cognac leather, Sperry's... is there anything else you could ask for in the summer months?! If they made the liner a leopard print I'd assume the whole thing was a practical joke to make me die a prompt death of loving a shoe too much.
Catalina Suddenly Slim Shirred two-piece swimsuit - I have hoarded the one piece version of this suit from Walmart for years and have had a ridiculous amount of people ask me where I got it. When I spotted a two piece version of the vintage-inspired suit now available at Walmart (and for $28!!) I had to order it right away. It should be here by Tuesday. Who wants to go swimming?
I love me some Jillian. I mean, I truly hate her. I hate her so hard. When she talks, I want to mute the screen. But I've never known a workout video that actually gets me off my butt. I look forward to adding to my Jillian collection. I haven't bought this bad boy yet, but it's next on the list. My current go-to video is
Shred It With Weights
. Go get yourself a kettle bell and check it out! It's a totally different way to work your muscles, and I'm kind of in love.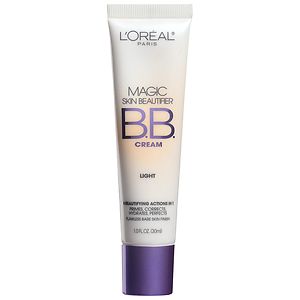 My girl Rachel got me turned on to this stuff, and I must say that I actually get excited to put a base layer on my face every morning. I've been pairing it with L'Oreal Miracle Blur (which has SPF 30) and my skin looks so glowy and dewy and fresh and purdy. I approve.
Now go out and buy all of the above. For me. Right now. Please and thank you.